The Mentoring program is designed to get together international students and students from Mainz to make your start in Mainz a little bit easier.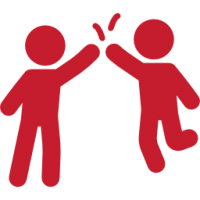 The Mentoring program is open for all exchange students and international degree seeking students during their first semester in Mainz. As so-called mentees they can get support starting their studies in Computer Science, Mathematics, Meteorology and Physics at JGU Mainz.
Mentors are students from a higher semester who help with tips and tricks derived from their own experience. They can help with matters from choosing classes, organizing your studies, orientation on and off campus to addressing your professors. In case of doubt they can name you further contact persons.
The matching of mentees and mentors takes into consideration study program, knowledge of languages, international experience and preferences regarding male/female mentors/mentees.
Please use this online form to apply as a mentee or mentor. Applications are open for the summer term 2019.
Mentoring application
The data you enter into this form are transmitted via an encrypted SSL connection.