The Faculty of Physics, Mathematics and Computer Sciences offers two scholarships (830 € per month each) for the Master of Science in Physics Program. The scholarship is granted for 12 months.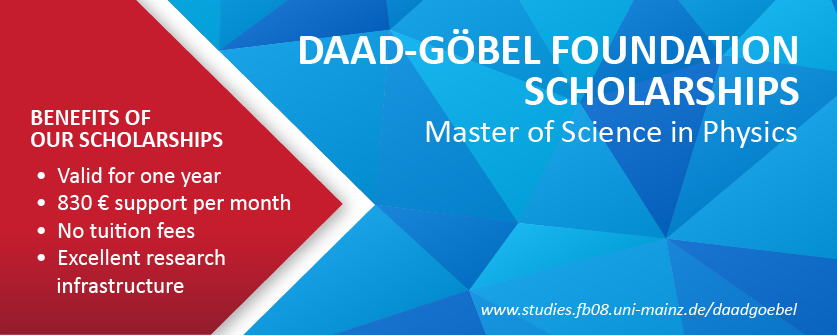 Who is eligible?
International students who received their Bachelor of Science degree from a foreign university. To be granted the scholarship you need to have admission to the Master of Science in Physics Program. To facilitate the process, you can apply for the scholarship as soon as you start your application for admission. It is possible to exclude applications for the scholarship if the grade point average (GPA) is lower than 2.4 (German grading system).
What do I need to apply?
Please hand in the following documents in English or with an official English translation as one pdf-file via email to scholarship-physics@uni-mainz.de:
CV
diploma of your Bachelor's degree with a transcript of records
letter detailing your motivation for studying in Germany and a description of former extracurricular commitments
if applicable: certificates or other documents you wish to add
proof of English proficiency
Please make sure to indicate when (which semester) you plan to start your studies.
When is the application deadline?
The application deadline is on August 31, 2021 for the following winter term, which begins on October 18, 2021.
IMPORTANT NOTE: Please consider that you need to have admission to the Master of Science in Physics Program at our university to be granted the scholarship. So you have to apply for admission into the Physics Masters program and you have to apply for this scholarship. You can find more information about the application for the Master of Science Physics program on this website of our university:
https://www.studying.uni-mainz.de/master-international/
How are applications selected?
The selection committee consists of at least three members of the Department of Physics as well as the donors. They evaluate all applications based on their merits (in this order):
GPA of Bachelor degree
other academic achievements
extracurricular commitments during Bachelor studies
willingness to participate in extracurricular activities in the field of internationalization at JGU (e.g. as tutor for new international students or as JGU ambassador in your home country)
In case of equal qualifications, female applicants are given preference over male applicants, as women are still underrepresented in Physics. Possible candidates for a scholarship can be invited to an interview.
How can I finance my studies after the scholarship has expired?
When the scholarships has expired, there are several ways to finance your studies. A common way for our master's students are student assistant positions, which are offered by individual professors or work group leaders.
---
For further questions regarding the DAAD-Göbel Foundation Scholarships please contact:
scholarship-physics@uni-mainz.de