Mainz is a lively, loveable city on the Rhine that was founded in Roman times and is situated in the midst of a wine-growing area, near the UNESCO world cultural heritage site "Oberes Mittelrheintal" ("Upper Middle Rhine Valley"). Science and technological progress have been connected with the name Mainz for a long time; one need only think of the invention of the printing press by Johannes Gutenberg over 500 years ago.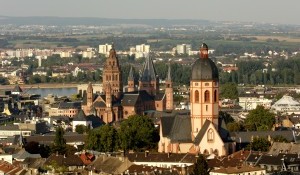 The university town Mainz offers a stimulating environment and an excellent infrastructure to its more than 40,000 students in town and on the campus of the Johannes Gutenberg University (JGU). Our students can experience a wide range of cultural events as well as diverse recreational and sporting activities. Students of the JGU benefit from reduced entrance fees or even free entrance to many cultural events such as performances at the Mainz State Theater. With its historical character and cultural atmosphere, Mainz combines the quality of life of a medium-sized town on the Rhine with the dynamic and versatile range of a state capital.
The university campus, which is close to numerous dormitories for students, is located within walking distance of the town center and is well-connected to local public transportation. In addition, the central location of Mainz offers an excellent transport connection to the whole federal territory. For instance, you can reach Frankfurt Airport, one of the most important traffic centers in Europe, in 30 minutes.