Doing your complete course of study in Computer Science, Mathematics, Meteorology or Physics in Mainz? No problem!
Our contact person for international matters answers your questions.
Mentoring Program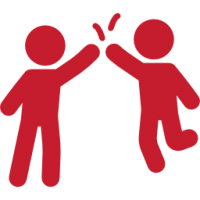 Faculty 08 offers a mentoring program for exchange students as well as international degree seeking students who enroll in Computer Science, Mathematics, Meteorology or Physics. Our mentors are students of these subjects that have already been studying successfully for a year or longer. Whether you would like to get to know the campus, your department or the city of Mainz, whether you have questions concerning your classes or exams - come join the mentoring program! All you need to do is register online.
Computer Science, Mathematics, Meteorology and Physics in Mainz
Which topics are covered and where is the main focus? Where can I get an overview over current or upcoming classes? You will find plenty of information on each subject and program on the faculty's website and the departments' homepages. An important source of information is the students' handbook, which contains a description of all modules and classes.
If you would like a preview on upcoming classes please use our online course catalogue JOGUStINe. Switch to English, select "course catalogue" and the respective term and faculty.
Proof of Language Proficiency
In order to enroll at JGU Mainz you have to prove sufficient language proficiency in German; for the English taught Master's programs in Physics and Meteorology you have to prove your English proficiency instead of German. The International Office of JGU has put together detailed information. The International Preparatory and Language Center (ISSK) offers students the possibility to obtain the proficiency in German needed to enroll and to further their skills even more during the semester. More information on the language classes can be found on the website of the ISSK.
Application and Admission
Basically, there are three steps for the admission of students with foreign school leaving certificates:
The documents you hand in will be checked whether they grant you direct entry to the desired study program. There is a fee of 60 € for this examination.
You have to proof sufficient language proficiency.
If you get clearance in both above mentioned points you can apply directly for the desired program. If not you can attend classes at the International Preparatory and Language Center to receive the necessary proofs. After that you can apply for the desired program.
The entire process is described in detail here. Please note that for the Master's programs in Physics and Meteorology, you can hand in the documents needed to check whether you are granted direct entry together with the application.